It is a privilege and a delight to be included in such a high vibrational group of animal lovers! As I've been in the Listening and the preparation for our time together, my Cosmic Committee made it clear that they intended to honor you for your commitment of time, resources and energy to the animals. Enjoy my free gift to you, as well as some fun surprises to come and, of course, some BIG savings for YOU!
Free Gift for YOU
Top 5 Ways to Connect Deeper with Animals & Nature
I'd love for you to get to know me better before we spend a weekend together...if you know what I mean! Please enjoy this audio seminar and handout that I put together so that you can "meet" me and get to feel into my vibe before we meet in person. It will be here before you know it! Enjoy!
O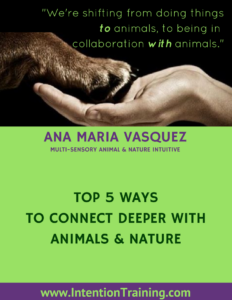 Click here to receive your FREE audio seminar & handout
---
Post Conference workshop Monday 15th May 8.00 am -9.00 am
Music of the Plants
Activation Experience for Your Clair senses
Monday, May 15th
Craigland Hotel Conference Room
8am-9am
Ana Maria Vasquez, Multi-Sensory Animal & Nature Intuitive
and the music of
the Pinyon Tree & the Arnica Plant
Ana Maria will take you on a plant led journey that will infuse activation energy into your clairsenses. We will utilize plant essences, ormus and recorded music made by the Pinyon Pine and the Arnica plant to calibrate your energetic field to the high vibration of nature. After all you've experienced and the new possibilities that you have been exposed to around our connection to animals & nature through this conference, this is the perfect time to be sure that your clairsenses are activated for this deeper connection and expansion. Whether you are already feeling a connection with your clairsenses or not, you will LOVE this Meditative Plant Journey Activation and the Shifts that you feel! Join me in this once in a lifetime experience.
Link here for payment at only 25$